Submitted by Room on Tue, 11/26/2013 - 12:13pm
A Room of One's Own will be CLOSED Thursday November 28th in observance of the holidays. We will be open normal hours (10-8) on Friday and Saturday!
Location:
Street:

315 W. Gorham St.

City:

Madison
,

Province:

Wisconsin

Postal Code:

53703-2218

Country:

United States
»
Submitted by Room on Fri, 08/03/2012 - 7:22pm
A Room of One's Own Bookstore has been a fixture in downtown Madison, Wisconsin since 1975.
Our New Location: In late July 2012, Room moved to 315 W. Gorham St., joining forces with our friends at Avol's Bookstore, just down the street from Community Pharmacy. We are now pleased to offer new and used books, in twice the space we had at our Johnson St. location! We encourage you to bring your gently-used books in to sell.
Avol's Used Books: Avol's continues to maintain a used book buyback counter in our space. The hours for used book buying are: Noon to 6pm, Mon-Sat. We are always interested in buying good, clean used books. We generally do not buy books with underlining, highlighting, water damage or severe wear. We do not buy Romance novels, Westerns, Reader's Digest books, magazines or journals. If you have any questions or would like to talk to the used book buyer, please call 608-255-4730 and ask for Ron. You can also find Avol's on the web at www.avolsbooks.com.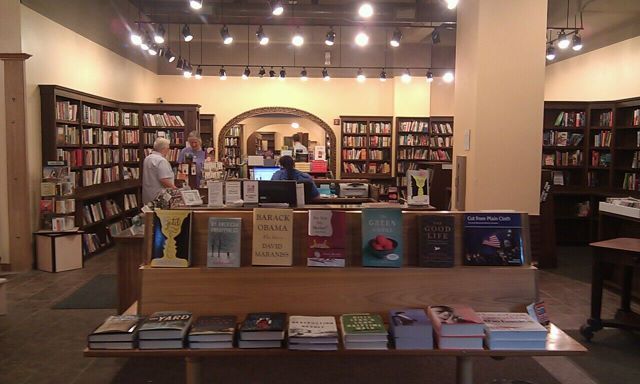 A Room of One's Own is an independent, local bookstore: Room offers a wide selection of current and classic fiction, nonfiction, periodicals, graphic novels, local interest titles, gifts, greeting cards, and t-shirts. We also have strong children's and young adult, women's studies and LGBT fiction and nonfiction sections.
Room's feminist community: We are proud to be a central part of Madison's women's community, and our roots in Madison's feminist community go deep. Our store has given us the opportunity to provide a meeting place, event forum, and safe space. We are happy to host community events. If your small book or discussion group would like to use our community room to meet, please call ahead to check availability at 608-257-7888. 
Web Orders and e-books: We are happy to be able to offer e-books and web orders for in-store pickup or mail delivery through our website! Please note that our website does not reflect our in-store stock: please call us at (608) 257-7888 to find out if we have the title (new or used) that you would like.